Official Sun City Girls Discography:
330,003 Cross Dressers from Beyond the Rig Veda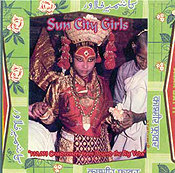 front cover
1996: double CD (Abduction: ABDT-008)
2002: triple LP (Locust Music: #4)
The second double CD in a year (along with Dante's Disneyland Inferno).
"[P]artly an ethno-surrealist take on places and forms known (Indonesian gamelan, Bollywood soundtracks, Polynesian folk, surf stylistics, & sci-fi thematics) and partly a stupefying surreal ethnography of places yet to be discovered as the collective Bishop Brothers, Mssrs. Gocher and Kang walk that liminal tightrope between Here and There." — Locust Music catalog
"Kickin' the Dragon" was live recorded at the Off Ramp (now defunct) in Seattle. "Ghost Ghat Tresspass / Sussmeier" was recorded live at Bottom of the Hill in San Francisco, and features Eyvind Kang on violin. A portion of "Sussmeier" appears on Kang's Theater of Mineral NADE's CD (Tzadik, 1998). "Shin Paku" and "Maybe I'll Kiss and Die a Fool" were originally recorded during the sessions for Torch of the Mystic.
The songs "Apna Desh" and "Rookoo Bay" originally appeared in remixed form on the 78rpm 10-inch issued by Perfect in 1994.
This release also features the recording debut of Sun City Girl's Javanese Gamelan, acquired in 1993 at a Seattle auction.
Disk 1:
Civet's Tango
CCC
Apna Desh
Rookoobay
Cruel and Thin
Sardhama Royale
Sikya Boyah
Soi Cowboy
Kickin' the Dragon
Murderers Night
Diamond Macaque
Theme From "Sangkala"
Insect Dilemma
Delong Song
Kumari Sweet
Lies up the Niger
Disk 2:
Cineraria Blue
Shin Paku
Candi Sukuh
Ghost Ghat Tresspass / Sussmeier
Vimana of the Twilight
Theme From "The Swaying Gardens of Apocalypsia"
Maybe I'll Kiss and Die a Fool (Finale)