Official Sun City Girls Discography:
Torch of the Mystics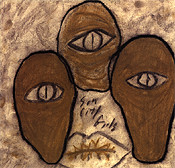 LP cover (1990)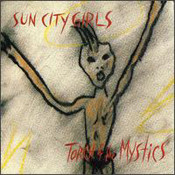 CD reissue cover (1993)
1990: LP (Majora: 5-23102)
1993: CD (Tupelo: TUP 44-2)
Probably the best-known Sun City Girls release (with the possible exception of Horse Cock Phepner).
In 1993, Tupelo reissued this on CD. The tracks were all remastered to fix the somewhat tinny sound of the LP (due to some overzealous compression). It also featured new cover art (by Mary Alice Clark), a mini-poster with a then-current discography on the back, and a booklet featuring a short story by Charles Gocher.
Side A:
Blue Mamba
Tarmac 23
Esoterica Of Abyssynia
Space Prophet Dogon
Side B:
The Shining Path
The Flower
Cafe Batik
Radar 1941
Papa Legba
The Vinegar Stroke
Burial In the Sky