Official Sun City Girls Discography:
Torch of the Mystics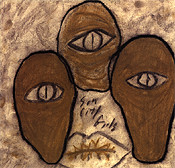 LP cover (1990)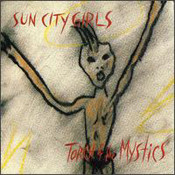 CD reissue cover (1993)
1990: LP (Majora: 5-23102)
1993: CD (Tupelo: TUP 44-2)
2015: LP / CD (Abduction: ABDT-055)
Probably the best-known Sun City Girls release (with the possible exception of Horse Cock Phepner).
In 1993, Tupelo reissued this on CD. The tracks were all remastered to fix the somewhat tinny sound of the LP (due to some overzealous compression). It also featured new cover art (by Mary Alice Clark), a mini-poster with a then-current discography on the back, and a booklet featuring a short story by Charles Gocher.
2015 editions remastered by Mark Gergis. CD version in digipak with eight-page booklet; LP version includes insert.
Here is Byron Coley's original review from the May 1990 issue of Spin magazine:
"Just out of the box, and so majestic that it makes my brain do out-skull jigs across my sizzling, glass-strewn floor, is the Sun City Girls' new LP, Torch of the Mystics. As the heppest of you undoubtedly know, the Girls are a death-defying improv-rock band from Arizona who number no females amongst their membership, but who still bleed profusely on a near-monthly basis. Their recordings tend to be scattershot fiestas of lump-rich style gumbo, and Mystics is easily the richest, lumpiest puddle of guh they've yet emitted. The sounds on this record have moments of style-lifting, however, that should endear them even to fans of olden-days out-rock (a notoriously Luddite audience). At one point you'll 'hear' the circa-65 Mothers chanting 'Help I'm A Rock' while being pushed into a kettle of boiling oil by the West Coast Pop Art Experimental Band; at another you'll swear that your head is stuck in a lardy commode while one of the Fugs' ESP recording sessions rages around your sweat-soaked and heaving trousers. ET-fuckin-CETERA. But these 'cops' are not central parts of the whole. They pop up, rather, amidst swirling, psychedelic ethnic forgeries that will make Can fans renounce post-Landed Kraut Rock wax. Combined with this is greasy, long-wound-out puling that could come from nowhere but the small Arizona trailer park that birthed these honchos. The mix is nothing short of bo-weaving and I can't imagine that this disc will have many equals in 1990."
Side A:
Blue Mamba
Tarmac 23
Esoterica Of Abyssynia
Space Prophet Dogon
Side B:
The Shining Path
The Flower
Cafe Batik
Radar 1941
Papa Legba
The Vinegar Stroke
Burial In the Sky