Official Sun City Girls Discography:
You Can Never Go Fast Enough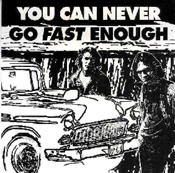 cover
2003: CD / 2-LP (Plain Recordings: plain 103)
A tribute compilation to Monte Hellman's movie Two-Lane Blacktop (1971), featuring unreleased and rare tracks by various artists, including "Sleep Gunner" by Alvarius B.
The double-LP edition was issued with a gate-fold sleeve.
The same label also released the IMAPHOTOGRAPHER compilation, a tribute to Michelangelo Antonioni's Blow-Up which features a cut by Sun City Girls.
Tracks:
Sandy Bull - "Little Maggie"
Alan Licht & Will Oldham - "Don't Cry, Driver"
Alvarius B. - "Sleep Gunner"
Calexico - "No Doze"
Wilco - "Old Maid"
Steffen Basho-Junghans - "Lazy Waters"
Mark Eitzel & Marc Capelle - "What The Girl Didn't Say"
Roscoe Holcomb - "Boat's Up The River"
Suntanama - "Parallels"
Giant Sand - "Vanishing Point"
Charalambides - "Flying Machine"
Leadbelly - "Stewball"
Sonic Youth - "Loop Cat"
Cat Power - "(I Can't Get No) Satisfaction"
Roy Montgomery - "2LB"