Official Sun City Girls Discography:
Uncle Jim's Superstars of Greenwich Meantime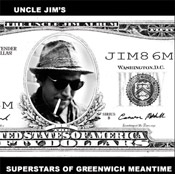 CD cover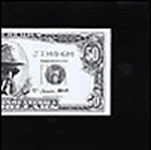 LP cover
2005: LP (Black Velvet Fuckere Records) - ltd. ed. 500 copies
2006: CD (Abduction: ABDT036) - ltd. ed.
"Ruling at the perpetual pivot and pole of a peerless sound world over the past 25 years, the Sun City Girls are one of the few last arab cowboys of genius. SUPERSTARS OF GREENWICH MEANTIME is the premier long player from the UNCLE JIM... a smoked out X+Y=Fuck You dialectic. Rawer than Rudy Ray Moore, shrewder than Lenny Bruce, more spoken tongue wizard insanity than Lord Buckley and more deranged than Charles Baudelaire; this is Alan Bishop's own personal anthology of black humour, filled to the brim full of diatribes backed up by bad ass musicians (including all of the Sun City Girls). A masterpiece of the SCG cannon." — Black Velvet Fuckere.
Featuring: Charles Gocher, Richard Bishop, Alvarius B, Liz Allbee, Andrew McGinnis, Specs One, Porest, and Uncle Jim.
CD Track List
LIBERTIES (4:13)
FOGGY LAKE OF SWILL (4:00)
GRADUATION DAY (4:04)
FLASHBACK (1:59)
AFTER HOURS (3:35)
SUPERSTARS OF GREENWICH MEANTIME (16:07)
LP Track List
Side A
LIBERTIES (4:13)
FOGGY LAKE OF SWILL (4:00)
GRADUATION DAY (4:04)
FLASHBACK (1:59)
AFTER HOURS (3:35)
Side B
SUPERSTARS OF GREENWICH MEANTIME (16:07)