Official Sun City Girls Discography:
Low Self-Esteem Girl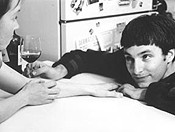 A still from Low Self-Esteem Girl. (The film was shot in color.)
2000: film soundtrack
Several songs by Sun City Girls were used for this 96 min. feature film shot on Mini-DV:
Music by Destroyer, The New Pornographers (the director's band) and Superconductor was also used.
Plot: Lois is an attractive 20-something woman who can't say no. With little will of her own, she's easy prey for slacker guys who want to sleep with her, and zealots who want to control her mind. A darkly funny, meandering tale of fanatical Christians, devil possession, exorcism, sex, drugs and rock 'n' roll.
Winner of the Narrative Feature Jury Award at the 2001 South By Southwest Festival. Also screened at the 2001 Calgary Film Festival and others.
Film Credits:
Directed by Blaine Thurier
Written by Blaine Thurier, based on his comic strip.
Cast:

Corrina Hammond
Rob McBeth
Ted Dave
Cindy Wolfe
Carl Newman
Full credits (via IMDB)