Official Sun City Girls Discography:
Box of Chameleons

Front cover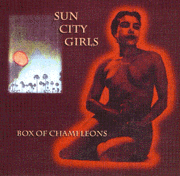 Booklet art
1997: triple CD box set (Abduction: ABDT-009)
At 128 tracks and a playing time of some 3 1/2 hours, this is a vast collection of pieces from the thousands of hours in the Sun City Girls archives. Box of Chameleons spans almost every known sonic purmutation of the band, ranging from 1979 through 1996 with a mixture of 8-channel, 4-track, and DAT recordings and even a few home tapes of teenaged prank phone calls.
The Ruins guest on "Surfing the Cardboard Stretcher", "Girl Trouble", and "The Fog Hotel Swindle" (all recorded live-to-DAT). "Cooking With Satan" and "Rodent with a View" are outtakes from the sessions for Dante's Disneyland Inferno and 330,003 Crossdressers From Beyond the Rig Veda double CDs from the previous year.
Disk 1:
Respected For Being Irrespectable
SCG Inc.
Vientiene
Priest On the Run
On the Sign
Electrocution
Pinnacle
The Golden Cage
Theme to "Opium Cinema"
Criosote Landing
Song For a Dead Breath
Wuthering Corpse
Dogs of Luxor
Entrail - Littered Savannah
Asian Women on the Telephone
Dunderhead
And Once There Was Us
Pitchfork Capitol
Suck In
The Magic Switch
He's Part-Nickle
A Light Hearted Comedy
Slash Kick Wrist
Lunar No Sooner
Take a Giant Schmuck
Beauty Rides All Demons
Sun City of Industry
Gayatri
Flipping the Bird
Neverglades
High Drama Llama
Coffee With Eyelash
You Tell Me
Cuts On Phantom Limbs
Trailor Therapy
Viola Madre
Insect
Interlude
Swindler's Fist
Nova Expression #3
Tribute to Sonny Murray
Enough!
The Space Genie Hiss
Clickety-Clack Go the Arterial Tracks
Law of Diminished Returns
It's Ours (Reprise)
We'll Still Be Hovering After You're Gonesville
March on Atlas
Mama's Milk (Too Dry)
Thanks A Lot, Cerebral Man
Disk 2:
Suncitivity
Prison Quality Food
Wary of It All
Nine Sides of Air
Yellow Fever
You Amuckness
Impersonal Tragedy
Next to No Way
Kuda Kepang
Bad Housekeeping
Tribute to Liberace
Miss Majestic
Eddie, Is That The Blue Moon?
Surfin' The Cardboard Stretcher
Vomiting Diamonds
Everything Burnt 'Cept the Naval
ODE TO GANESH
Indians, Jacks and Pines
Bad Daylight
The Brickyard
I Deal a Stick
The Doldrums
They Wanted to Dance - We Gave Em This
Mood Bazaar
Lubricated Forays
Doorknob Journalism
Is It Stroked?
Girl Trouble
Sprinkling The Demon Seed
Neptune Breeze
Indian Graveyard
The Palestine Club Half-Way House Scene
Tobacco Bong Hits
Clown Prince
Amethyst Nightgown
A Random Finale
Plecostamus
TOBA HIGHTOP
Lifting the Hemline of the Unknown
A Photogenic Memory
BOBBY SANDS
The Eleven, Oh Nine in the Refridgerator, South Farmer
The Crowbar of Illusion
The Big Purr
A Throne's Stow
Disk 3:
Sun City Girls From Impanema
Trust Me?
Zealous Island
Death in Yellowknife
Overseer
Ajax Floodlamp
The Fog Hotel Swindle
Cooking with Satan
I Mean, I'm New to Her School
Three Blind Dice
Powell & Market
Rodent With a View
OJIBWAY
Brockway Roller Rink
Moonflower Power
Tweakscape
My Daughter
Yemen Dagger Architect
The Third-Eye Mood Ring Medallion
A Blessed Removal
BIG GAME
I Project Euphemy
Zeke Cambridge
The Apology
5th and Mill
Way Left North Out
I Hear It's the Best
Nights of Orange
Shilton
Theme 5
Broken Circuit of Love
Parade Aglow
Caterpiller