Official Sun City Girls Discography:
Bleach Has Feelings, Too!/To Cover Up Your Right To Live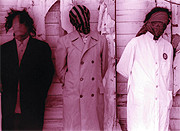 Cover photo
2003: double LP (Eclipse Records: ECLIP SCG02)
A dual-reissue of the two Cloaven Cassettes, both originally released in 1987.
Limited, one-time pressing of 1000 copies in a heavy duty gatefold sleeve with photos from the period the recordings were made.
These LPs are re-edited with deletions and additions from the original cassettes to better serve the vinyl format, expose unreleased material, and to preserve the original cassettes as valid rotting documents for those who bought them at the time.
Bleach Has Feelings, Too! was recorded between October 1982 and April 1984. Dave Oliphant engineered track A-2
To Cover Up Your Right to Live was recorded between January 1983 and November 1985. Jesse Srgoncik appears on track C-2 (guitar and vocals) and track C-5 (guitar).
Side A (Bleach Has Feelings, Too!):
Don't
Fog Hotel
Personal Blow Job
Side B (Bleach Has Feelings, Too!):
Billy, put that Bomb Away!
Laundry Room Satanist
Local 98 Rock
A Homosexual Revelation
The Last Outpost
Side C (To Cover Up Your Right To Live):
Rock and Roll
Waiting for my man
Headhunter
Summertime Blues
Psychedelic Shack
TNTNT
Side D (To Cover Up Your Right To Live):
Dark Eyes
Spanish Caravan
Back Stabbers
Paris 1942
Wild World of Animals
Caravan
It Never Rains in California