Official Sun City Girls Discography:
98.6 IS DEATH
Carnival Folklore Resurrection vol. 13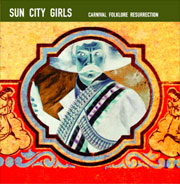 CD cover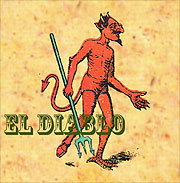 2004: CD (Abduction)
Limited edition of 1000.
The Carnival Folklore Resurrection keeps rolling in the "Made for Radio" format with 98.6 IS DEATH, an hour-long broadcast aired on WFPK in Louisville, Kentucky in April of 2004.
More manic than the 2-disc Vol. 11/12 which preceded it, there are 37 pieces crammed in 58 minutes of SCG razor-sharp patented assembly including studio outtakes from the Juggernaut and Piasa...Devourer of Men LP recording sessions from the early 1990s, live SCG cuts, Alvarius Bacharach, whacked ideas on how to make money in a bad economy, cryptic audio theatre message rants including Uncle Jim and other characters, an Indian banjo raga by Sir RB from a hotel in Bangalore, mexicana radio collage, indescribable subversive weirdness and its all capped-off with a cover of Morricone's "Man w/ a Harmonica"!
Tracks:
Chameleon Street Hit Parade
Skull Block
Original of the Aboriginal
Dead Sea Catholics
Dark Eyes
Wheelchair Massacre, 1906
Stairway To The Stars
What Brought it Down?
Among All Flat #2
Kill them all...Gently
SCG Answering Machine 1990
98.6 IS DEATH
Anvils Keep Fallin'
Matamoras Hit Parade
Radio ID #1
In Just Us
Foreign Policy #13 & #36
Sangkala #4
Sour Smells in Nevada
Evasive Prescription
Matamoras Hit Parade #2
Roast The Pig
Black Genie
Very Middle East
Limerick #241
Gravelhead (extended/gutted)
A Previously Unknown Sacrifice #2
Radio ID #2
Messages from Terminal One
Skeleton Coat
The Closer
Eye Socket Manifesto
Matamoras Hit Parade #3
Without Supervision/ Radio ID #3
Bangalore Porch lights
Questions and Answers/Only in America Inc.
Man Without a Harmonica