Official Sun City Girls Discography:
Carnival Folklore Resurrection Radio
Carnival Folklore Resurrection vols. 11 &amp 12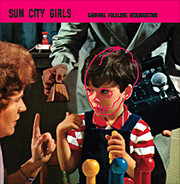 CD cover
2004: double CD (Abduction)
Limited edition of 400.
Originally aired on Brian Turner's WFMU radio show in November of 2002, this 2 CD set covers several areas of the SCG spectrum. You'll find elements of radio collage (from Thailand and beyond), trio Improv, pseudo-Rock, Folk, French and Italian pop, Noise, ethereal space music, answering machine messages, Uncle Jim rants, lounge, field recordings, fucked-up Hip-Hop and much MORE. Truly an essential SCG release.
The set also features the SCG soundtrack music to the opening shot from Harmony Korine's British TV documentary of David Blaine's 44 day fast in a suspended glass box over London and an excerpt from an actual Masonic Funeral! Several of the songs have been re-mixed from the original aired broadcast and ALL of the expletives from Uncle Jim's "Ghengis Necroma-KHAN" have been restored (during the broadcast on WFMU they were deleted by processed sound).
Disk 1: Radio One (CFR #11)
Krung Thep Cut-Up
Nibiru
Seat Belts Cause Cancer
Not in My League
Unite airlines Theme 2001
Insurance
WFMU Sation ID "Palmer"
Batman Theme
LAID HENN "Straight Out The Mental Ward"
Cautionary Signal #!
Neptune Detours
Krung Thep Cut-out
Unplayable
Eastern Air Command
Masonic Funeral
Disk 2: Radio Two (CFR #12)
The Rite of Spring Thing
The GHENGIS-Necro-Nama-KHAN Pt. 1
Post-Jet Groove
Pranco De Gaulle
The Peacock Angel
The GHENGIS-Necro-Nama-KHAN Pt. 2
The Rod Serling Stomp
WFMU Sation ID "Bison"
Swept Away
SPECS ONE "Genosha"
Shanghair Satellite
Cautionary Signal #2
The GHENGIS-Necro-Nama-KHAN Pt. 3
Where is WHAT IT WAS?