Official Sun City Girls Discography:
Alvarius B. Trolling The De-Enlightenment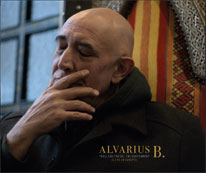 LP cover
2023 LP (Unrock: Unrocklp05)
Trolling The De-Enlightenment is a solo live recording from Alan Bishop under his well-known Alvarius B. alias. It was recorded on various occasions throughout western Europe during and after the period he was recording his 2017 trilogy release With A Beaker On The Burner and An Otter In The Oven. Bishop's presence and charisma, alongside his distinctive voice and the twisted characters he has to offer, filled the rooms he played in, and these recordings transport his unique performance vibe to this vinyl edition. The album contains some tracks you're possibly familiar with, and some which have never been played before. There's not only a re-written Bob Dylan song and two interpretations from the Burt-Bacharach-Lounge as we call it, but many of Bishop's original songs are present on this first ever Alvarius B. live album release.
Released in an edition of 400 copies in 140g vinyl. 200 copies are made in black, 200 in clear vinyl. There is also a deluxe edition. This edition comes with a two track clear Lathe Cut, which will be cut exactly in a numbered edition of 43. The Lathe Cut contains 2 unreleased tracks from the former Sun City Girl, "Pink Moon" and "The Ballad Of Lucy Brownbyrd". It is material from another time, it's psychedelic and feel free to be reminded at Alan Lomax, well somehow. Both tracks are completely unreleased and will not be available elsewhere or as digital files.
Photos by Hans Van Der Linden Recorded by Peter Koerfer Master by Kubbara in Cairo Sleeve Design by Philip Lethen Produced by Alan Bishop & Michael Stahl for El Burro Sabe Mas Que Tu
Side A
Hitman Boy
Black Blood
Anvils Keep Fallin'
This Guy's In Love
Wanted Man
Side B
Indian Summer Moon
ILL
Are You Sure
By The Time I Get To Phoenix
Great White
Smokin' To Live