Official Sun City Girls Discography:
The Invisible Hands Teslam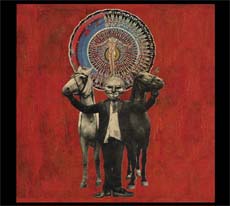 CD cover
10/28/2014: CD (Abduction: ABDT054)
12/09/2014: LP (Abduction: ABDT054)
"The Invisible Hands is a transcontinental collaboration between Alvarius B. (Alan Bishop of Sun City Girls) and four stellar young musicians from Cairo, Egypt: Cherif El Masri, Aya Hemeda (both formerly of the popular Egyptian group Eskenderella), Adham Zidan and Magued Nagati. On Teslam, The Invisible Hands expand the already panoramic range of their eponymous debut LP with a haunting set of melodic, impeccably crafted songs whose vintage psych/hard-rock edge conjures up early Alice Cooper almost as often as it recalls Sun City Girls and 20th-century icons like Ennio Morricone and Serge Gainsbourg. The band's exquisite sonic palette is deepened by Cairo-based guest musicians Mohamed Ibrahim, Mohamed 'Moe' Asem, and Sammy Sayed, as well as by longtime SCG compatriot Eyvind Kang. Recorded in Cairo between 2013 and 2014, Teslam represents a further evolution of Alvarius B.'s peerlessly idiosyncratic pop sensibility, which is just as volatile and unclassifiable as his more experimental work. His songwriting - both on his own, and in partnership with Cherif El Masri - is marked by a unity of purpose that has compressed countless musical and emotional incongruities into a handful of sharp-edged, pitch-black jewels. A brooding track composed by keyboardist Adham Zidan ('The Great Implosion') perfectly complements the record's uneasy mood. As usual, Alvarius B.'s lyrics comprise an apocalyptic pile-up of cruel metaphors at the intersection of culture, politics and international crime. But they take on new power and new implications as sung by El Masri and Hemeda, whose seductive voices are as inviting as a welcome mat at the gates of hell. Each song stands on its own while also fitting into a planet-sized jigsaw puzzle detailing dark associations and secret narratives that stretch back as far as the foundation of the world. Arguably Alvarius B.'s most accessible work to date, Teslam is a generously baited steel-jaw trap for the unwary listener. Like The Invisible Hands' 2013 debut, Teslam inevitably reflects the precarious political circumstances in which it was conceived and recorded. As such, it's a vivid document not just of an unlikely musical collaboration, but also of a critical moment of hope, defiance, rage and sorrow in one of the world's most venerable cities. [This limited-edition razor-edged stainless-steel CD comes in a beautiful die cut balsawood jacket that folds out to form a fully operational guillotine. Just kidding, but it does come as a digipak CD with lyrics booklet and lovely artwork]." - B. Kearney
"The Invisible Hands excel at the morose, orchestral ballad that lifts you up as it takes you down, elegantly." - The Stranger
LP comes in a tip-on jacket with lyrics insert and lovely artwork.
Tracks:
Invisible Hands
Slaughterhouse
Places
Over Easy
Eyes in the Back of Your Head
Weasel Down
The Great Implosion
The Blaze
Spaces
Priests & Poets
Carrion