Official Sun City Girls Discography:
Sir Richard Bishop: Staged
2006: CD-R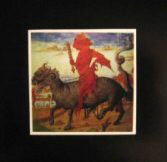 CD cover
42 minutes. A new release of all live recordings. Includes a couple of pieces from 1998, shortly after Salvador Kali was released. The remaining songs are taken from the 2005 and 2006 tours.
Limited edition of 250 signed copies. Out of print.