Official Sun City Girls Discography:
The Dwarfs Of East Agouza Speaking In Tongues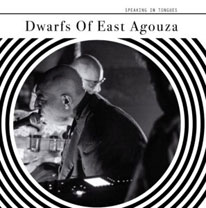 7" cover
10/15/2022: 7" (Unrock: UNR30-3)
Dwarfs Of East Agouza are a leading force of improvised musical excitement and stand apart from wider parts of an lame ass underground of the 20ies. Founded in Cairo circa 2015 by Alan Bishop (ex-Sun City Girls) with Sam Shalabi (Land Of Kush, Karkhana) and Maurice Louca (Karkhana) the trio developed an unique always recognizable sound, but with many faces to show.
Two very different ones are shown on their contribution to Unrock's "Il Burro Sabe Mas Que Tu" Singles Series. Speaking in Tongues sounds like a nightmare coming straight out of hell, conducted by Bishops unique voice, while Organism 46-B shows them in a classical softer mode, touching nearly classical Free-Jazz issues.
Mixed by Adham Zidhan. Mastered by Peter Koerfer at Ivory Tower. Photography by Hans van der Linden, realisation by Philip Lethen. One-time limited run on black vinyl.
Side A
Speaking In Tongues