Official Sun City Girls Discography:
Alan Bishop The Sea Between My Soul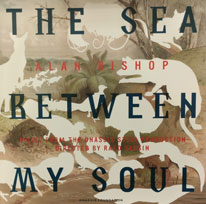 LP cover
2021: 2-LP (Onassis Foundation: LP02)
In 2021, Onassis Foundation in Athens premiered a rock musical performed by taxidermy animals. It was Raed Yassin's "The Sea Between My Soul" crossing boundaries between installation and theater, music and light, and even life and death.
A morbid reflection on the long standing history of fatalities in the Mediterranean sea, the work will punctuated by the high-strung notes of Alan Bishop's singing voice, adding a whiff of absurdity to the otherwise apocalyptic scenario that surrounds us in the world today.
Promo only release in an unknown quantity and not for sale.
Music, Lyrics - Alan Bishop
Piano, Organ, Harpsichord, Clavinet, Backing Vocals - Adham Zidan
Vocals, Acoustic Guitar, Bass Guitar, Alto Saxophone - Alan Bishop
Cello - Amelie Legrand
Vocals, Percussion - Aya Hemeda
Electric Guitar, Backing Vocals - Cherif El Masri
Viola - Eyvind Kang
Vocals - Jessika Kenney
Drums - Morgan Mikkelsen
Vocals - Nadah El Shazley
Mastered by Mark Gergis
Produced by Alan Bishop & Adam Zidan
Side A
Field Psychos
Narration I
Doorstep to Hell
Money Badger
Narration II
Ten Thousand Times
Side B
In the Middle of the Night
Narration III
Underrated
Liars
Narration IV
If I Were A Bee Gee
Side C
Trumpets of Death
Chinese Pajamas
Narration V
My Dark Piano
Big Kaka
Side D
Narration VI
The Black Moon
Thoughts of he Cold Wind
Victims