Official Sun City Girls Discography:
The Dwarfs of East Agouza Rats Don't Eat Synthesizers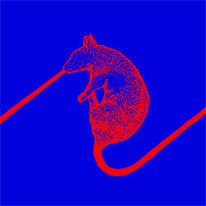 LP cover
2018: LP (Akuphone: AKULP1008)
2018: CD (Annihaya: END 14)
Hailing from the Agouza district of Cairo, Egypt, this freeform, unjazz, dadawahn, unrock trio consists of Sun City Girl Alan Bishop, Cairo keyboard wizzard Maurice Louca and the great canadian/egyptian composer and guitar/oud player Sam Shalabi. After having their debut "Bes" out on Nawa Recordings in 2016 and "Both Sides Of The Curtain" on Unrock, "Rats Don't Eat Sythesizers" is their newest work to date. Recorded in Cairo in 2015, the album features "Ringa Mask Koshary - Part 1" and "Ringa Mask Koshary - Part 2". Mesmerizing electric guitar parts, frenetic beats, both supported by the deep sound of Alan's acoustic bass create a new magical Egyptian soundscape.
The limited vinyl version has a very spectacular hot foil stamped sleeve that magnifies the red metallic rats and a wonderful printed inner sleeve.