Official Sun City Girls Discography:
Piano Bar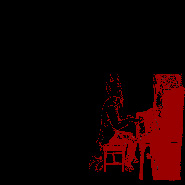 LP cover (2006)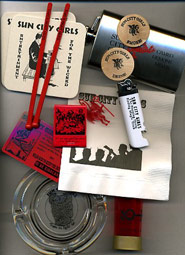 Party accessories included in the box version
2006: LP (OQ'EBAL 001 CAXÓN)
This release includes 47 minutes of previously unavailable material. Pressed on high quality 180 gram vinyl manufactured in the USA. Hand screen printed covers printed by Alan Sherry at Siwa and featuring original artwork by Chris Crites. Includes offset printed menu insert.
Limited edition of 497 copies.
Limited Edition Box Version
The box version of Piano Bar includes a second new Sun City Girls LP, For Drummers Only, available only in this set. It is packaged in a hand made wooden box special designed and built by Alan Sherry of Siwa, with an exclusive set of bar items with custom printing. Limited to 108 copies.
The box verison of Piano Bar is available exclusively from Ri Be Xibalba.
Side A:
Is This Working?
Piano Bar (Introduction)
Big Titular Deities
The Great Fuck Inaccessible
It's Not Working
No Fuckin' Witnesses!
History Lesson (part 1)
Jemimah
Side B:
Cuz I Fuckin' Love Ya
Who Needs a Theremin?
Sweater Puppets
Piano Bar (Theme)
Punishment in Peshawar
That's How We Do It In the South (CDR Collector's Version)
A Berserk Skill
The Healing