Official Sun City Girls Discography:
Maurice Louca Benhayyi Al-Baghbaghan (Salute The Parrot)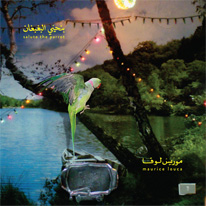 CD cover
11/17/2014: CD / LP / download (Nawa Recordings: NAWA002)
Alan Bishop - Alto Saxophone on one track: 'Sharraq Rah Tegharrab (It Will Set)'
Salute the Parrot signals a departure for Louca from his first solo album Garraya - in which he composed electronic music unaccompanied - into the realms of acoustic orchestrations, both composed and improvised. Featuring guest performances by Alan Bishop (Sun City Girls, Alvarius B.), Sam Shalabi (Land of Kush, Shalabi Effect), Tamer Abu Ghazaleh (Solo Artist/Alif), Khaled Yassine (Anouar Brahem/Alif) and vocals by Egyptian Mahraganat MCs Amr 7a7a and Alaa 50, to name a few. Those who may have heard live iterations of Salute the Parrot at Louca's jaw dropping shows across the Arab world and Europe over the last couple of years, will encounter a much more complex and hard hitting work of many influences. From psychedelic to Egyptian Shaabi, Louca shatters the confines of musical and cultural labeling with a work that is truly unique. The album's new live and acoustic elements, coupled with limited pre-recorded material, present ample space for improvisation and fluidity within its composition. Its eight tracks offering a unique record of this new vision, and preparing the ground for future live performances of Salute the Parrot which will never sound totally the same.