Official Sun City Girls Discography:
The Clandestine Quartet One for the Fossa, Two for the Wolverine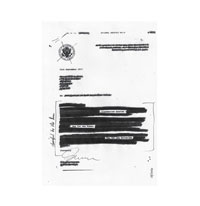 LP cover
2019: LP (ThirtyThree ThirtyThree Records: TTTT004)
ThirtyThree ThirtyThree present the debut LP from the Clandestine Quartet, bringing together Alan and Richard Bishop with Michael Flower and Chris Corsano. Invited to perform in London as part of the St John Sessions series, Alan Bishop rounded up this quartet of underground stalwarts with a deep history of collaborative ventures -- the Bishop brothers making up two-thirds of the legendary Sun City Girls, Richard Bishop and Corsano comprising two parts of psychedelic juggernaut Rangda, and the Flower-Corsano Duo having wowed audiences for over a decade with their face-melting brand of eastern-tinged free shred. The quartet spent four days in the studio developing material for the London show and recording the seven pieces heard here (five across the LP, accompanied by two digital bonus tracks). They settled, for the most part, on something approaching a classic rock quartet line-up: Richard Bishop on electric guitar, Michael Flower on his signature amplified "Japanese banjo" (an Indian keyed zither), Alan Bishop on bass, and Chris Corsano manning the drums. Rather than a straight-up improvised blowing session, the LP strikes a balance between free-flowing spontaneous interaction and structured surprise, alternating between zoned-out group meditations and stop-on-a-dime unison dynamics. On the epic side-long opener "Don't Hang From My Ceiling", a lyrical weave of guitar, bass, and Japanese banjo lines approaches the unhurried melodic invention of Indian classical music until Corsano's tumbling, free-form drums incite the quartet into an ecstatic crescendo, over which Richard Bishop's guitar unfurls a euphoric solo that calls to mind the mystical grandeur of prime Popol Vuh. The B side finds the quartet branching out both in terms of instrumentation and compositional strategies, crafting a suite of pieces that, like classic Sun City Girls, move unexpectedly from tightly locked bass and drum grooves to explosions of free jazz alto saxophone (courtesy of Alan Bishop) and from shimmering guitar jams to massed choirs of horns. "(So Long) Harry Dean", one of the record's highlights, finds Richard Bishop on piano, leading the quartet through a languorous series of chords punctuated by Corsano's gracefully ungainly percussive accents, before a sudden blast of reed horn announces a passage of rapid-fire dissonance that seamlessly transitions back into the pianistic meandering of the track's first-half. Effortlessly balanced between improvisation and composition, melody and noise, rhythm and space, the Clandestine Quartet is a fitting next step for this group of psychedelic troubadours.
Side A
Don't Hang From My Ceiling
Side B
Thank You Mr. Jackpots
(So Long) Harry Dean
One For The Fossa, Two For The Wolverine
Wrong Church