Official Sun City Girls Discography:
Alvarius B. With a Beaker on the Burner and an Otter in the Oven - Vol. 1 Natural Wonder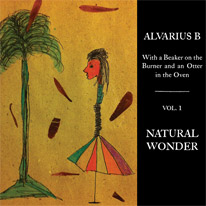 LP cover
10/6/2017: LP (Abduction: ABDT059A)
Volume One of three new LPs I am releasing simultaneously called Natural Wonder, this is the more melodic, savvy one and you might like it. Maybe I'm lying and it's the innocent, straight record so maybe you should get Vol 3 (ABDT 059C-LP) instead if you're in a darker mood. But that's not really true either. Or maybe it's one of those records that grows on you the more you continue playing it... like a cancer. The musicians who played on all three albums don't deserve to be involved in these kamikaze promotional descriptions so don't blame them for any of this. They played so well on these records, in fact they play much better than you do, and their performances deserve a 'Whammy,' which is the awards show where I'm in charge and the winners get to shoot members of the music industry academy dead in their seats. That's where it's all headed you know. . . . The modern world of record making has become so fucking dull and obedient that someone has to ram a poison dagger up your asses and since you're all under hypnosis, I promise you won't feel a thing. I could pay Dougie Jones to write this piece to match your intellect or hire a publicity company to promote it but who really gives a fuck? I'm still making records for myself and the rest of humanity doesn't speak my language anyway. By deciding to write my own album promos, I can perform some market research. For example, this album description text will undoubtedly be copy/pasted by most online retailers onto their respective sites because they don't write their own new album reviews or get too excited about music, they simply want to create the illusion that they're in business to sell records. So I could put something like: Fuck all website retailers that copy/paste this description onto their site because they are too fucking cheap, lazy or chicken shit to have an opinion to write individual album reviews -- and they probably wouldn't even notice while doing it. Anyway, back to my new album. These songs are pretty good, most likely way better than your songs, and I don't even have time to be a real songwriter, so what does that say about you? It says that you suck. And most of you do. But you should buy my new three album set because it's probably as good or better than any other LPs that will be released this year. But if you aren't ready to go all-in with confidence, then forget it. I don't want any mudskipper sub-species of the crayfish to buy my records. There are always a few speculators who'll pick up the extra copies you won't buy anyway. - Alvarius B (August 2017)
One-time pressing; Includes printed inner sleeve with lyrics and credits.
Side A
Natural Wonder (4:48)
Yellow Dog Prairie (2:37)
Open (2:13)
Their Words Disappear (2:08)
Zion the Rocket Ship (5:09)
Smokin' to Live (2:01)
Side B
The Fort (3:14)
Central California Nightmare (2:42)
The Valley (2:09)
Sentimentalitis (2:40)
The Reason (7:59)