Official Sun City Girls Discography:
Sam Shalabi Music for Arabs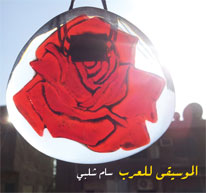 CD cover
2014: CD (Fire Museum Records: mm-21)
Features Alan Bishop on 2 songs.
Music For Arabs is like Music For Airports for taxi drivers: mood music of a mood of a time as a space and vice versa to maybe while the time away in a Cairo traffic jam when all else fails. Its ambient hope is meant to conjure up something like crossing over the Oct 6th bridge into party boats moored to the banks of the Nile and pressed up against each other, blasting 20 different tunes so loud that they achieve the impossible and momentarily out chaos the chaos of Cairo...its koshari kisses and jasmine sweat lines and secret make out spots in public space..a squint as old as time..it's Eid meat on the street n sniper precision eye shots..Stella beer and civilized chain smoking...the words are fragments and samples of eavesdropped, overheard, misheard, under heard desire, fear, nonsense profundity, pretension, threats and flirts and post coital tension and release..and it's for those who don't get what they want and those who get too much of what they don't want and never asked for..it's shaabi synesthesia: in one orifice and out another..and it's all true too- these are people and places that shine on and get lost, covered over by Cairo dust, shine again or are broken forever until the next joke or the next sudden breeze or confounded diversion makes you forget what you had to say.
Music For The Egyptians
Luxor Dancer
Revolution
The Enemy of My Enemy
The Wherewithal
Music For The Egyptians Part 2