Official Sun City Girls Discography:
Sam Shalabi / Alan Bishop & Sam Shalabi Mother Of All Sinners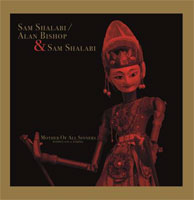 LP cover
2016: LP+7" (Unrock: LP007)
Unrock's Saraswati Series is mostly string orientated, zigzagging between the lines where underground and high-art performance overlap. Out jumps the first part of their actively anti-Western sub-series: Mother Of All Sinners, a part of the "Puppet on a String" twin albums. Osama Shalabi, a born Egyptian (best known for his work with Shalabi Effect & Land Of Kush), is an expert playing the oud. He's a traveler between the Eastern and Western worlds and long-time contributor to the Montreal scene. Sam - who spent the last few years home in Cairo - breathes his own sense of space and time through the epic "Tamara", an 18 minute long melodic, delightful improvisation. The other story, "Faith Of Our Fathers", starts in Agouza, Cairo, where Sam Shalabi and Alan Bishop spent some time jamming. They'd run free, lose form, find intensity, and wound up creating a contemporary version of oriental psychedelic free form. A mind-blowing, wild, never mellow Cairo night, now documented here. It's getting intense: A north-African sand storm. Mother Of All Sinners is released as a one-time limited run pressing on 140 gram vinyl. It has an extra heavy deluxe cover and a solid printed inlay.
For those early birds amongst you, the first 100 copies come with an extra 7". Extra ? No way... It's ultra-extra enjoyable... It features Mr. Koko in an ode to Agouza's famous coffee/kebab shop. Mr. Shalabi has created a thoughtful earworm, electronic but analogue, synthesizers merged with his guitar in the mix. A shiny, tiny pearl. On The other side Alan Bishop stepped into his Alvarius B mode for a sing-a-long-ding-a-doodley-dong version of "Why Can't Chinese Women Drive", recorded earlier this century at Unrock's 20th anniversary show. Can you feel the love ?
Side A
Sam Shalabi
Tamara
Side B
Alan Bishop & Sam Shalabi
Faith Of Our Fathers
7" Side A
Sam Shalabi
Mr. Koko
7" Side B
Alvarius B
Why Can't Chinese Women Drive