Official Sun City Girls Discography:
More Coffee for the Politicians
(Phoenix Underground Music Compilation #3)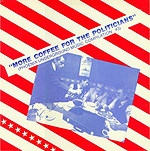 LP front cover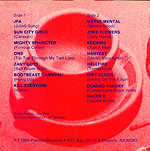 LP back cover
1985: compilation LP (Placebo: PLA-14 [?])
A compilation of punk bands from the Phoenix, AZ area. (See also Amuck and This is Phoenix Not the Circle Jerks.)
Side A:
JFA - "Julie's Song"
Sun City Girls - "Caravan"
Mighty Sphincter - "Furious Curse"
Ons - "Tip Toe Through My Two Lips"
Zany Guys - "Ball Room Blitz"
Bootbeast Carnival - "Hung Up"
Kill Everyone - "looons"
Side B:
Maybe Mental - "Monks Hood"
Joke Flower (w/ Charles Gocher) - "Dirty Hands"
Keening - "Just a Man"
Harvest - "Under Your Spell"
Hellfire - "Tombstone"
Dirt Clods - "Living on the Edge"
Domino Theory - "Comfortable Black Hole"
Racer X - "Jojoba Blues"