Official Sun City Girls Discography:
Midnight Cowboys From Ipanema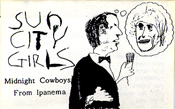 Cassette cover
1986: C-60 cassette (Breakfast Without Meat: BWM005)
Even though it was issued on cassette, you could call this Sun City Girl's third album. Mutant cover songs alternate with what Scott Colburn calls "what happens when two boys get ahold of a portable cassette recorder with weak batteries."
In 1994, this was reissued on LP, completely remastered. It was reissued once more in 1996, this time on CD (but with the same songs as on the LP).
Side A:
I've Done it All
Fly By Night
Achram Slow that Speed Boat Down
Midnight at the Oasis
Gary Had Sex
Sweet City Woman
I'm Gonna Die Tomorrow
Who's that Lady
Cook Ya Homos
Love Train
Caco Demons
Sev Acher
Gum Arabic
Side B:
Malika
Radar Love
My Sperm
Brandy
Canadian Dave
Tell Me Something Good
Desperado
Me and Mrs. Jones
Ha Ha
Circus Hadam
Go Wild