Official Sun City Girls Discography:
Alvarius B. With a Beaker on the Burner and an Otter in the Oven - Vol. 2 A Mark Twain August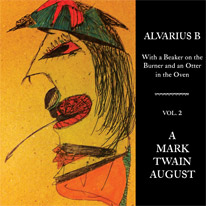 LP cover
10/20/2017: LP (Abduction: ABDT059B)
This is Volume Two of my new three LP set, and it's called A Mark Twain August. Now don't go asking me what the fuck that title means but I will say that it may be my favorite of the three. My 'fans', all 133 of them, are pretty smart. I used to think only 67 people mattered on earth, now it could be far less, but it's beginning to trouble me how I've actually accumulated 133 fans. So if you're not a moron, I don't mind if you buy this record. I made more copies than I have fans so I need to expand on the audience a bit but I don't want fucking idiots buying my albums. A brand new car loses value the moment you drive it home, but my records will always go up in value (like my Dodge Ram Van which tripled in value when I drove it off the lot) so this is also an investment opportunity. If you were to walk slowly on a hot bed of coals you may discover that Don McLean never actually drove his Chevy to the levy and that the singer-songwriter is dead, just like all the poets. What do contemporary poets and the entire Indonesian population have in common? Most of you cannot name even one of them. Homo Sapiens now love to complain and act as if they know how the world works by 'expressing' themselves on their social media networks -- that's become the new poetry. And I think there are only nine people writing songs today that I respect, I'd have to check to make sure. And the Thinking Fellars were a great band -- I could name a dozen more from the past 30 years that I'd call contemporaries, but that's about it. . . . And I almost forgot to mention that Mark Twain's old banjo appears on this record. Oh and this is better than that Wolf King of LA album by Papa John Phillips, for all those who got mesmerized by it 30 years after it came out. There's only three or four good tracks on that and A Mark Twain August has six great tracks on it, at least. - Alvarius B (August 2017)
One-time pressing; Includes printed inner sleeve with lyrics and credits.
Side A
Big Mystery (2:34)
Mark Twain August (3:21)
Dark in My Heart (2:51)
Obelisk (2:53)
Are You Sure? (2:51)
Locust Rain (3:14)
Side B
Fine Line (2:00)
Me & Me (2:28)
The Devil's Spine (3:05)
Some Kind of Difference (2:10)
Trains (2:41)
A New Humdinger (2:11)
If You're Gone (3:47)