Official Sun City Girls Discography:
Koes Barat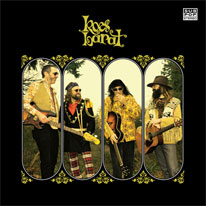 LP cover
4/18/2015: LP (Sub Pop: SP 1123)
When Alan Bishop becomes obsessed with something, he often goes to great lengths (and travels great distances) to turn that obsession into an essential artifact. Such is the case with his latest group's Sub Pop debut, Koes Barat, a sincere, gripping tribute to a band of Indonesian brothers—the Koeswoyos—whose instantly catchy garage-rock songs and ridiculously charming ballads caused a sensation in their homeland, Singapore, and Malaysia. They also made their government very uneasy: Basing your look on Western musicians and covering Beatles songs were considered subversive activities in mid-'60s Indonesia.
Back in 2010, Sun City Girls legend Bishop asserted his fandom of Koes Bersaudara (aka Koes Plus) with two archival releases of their music on his and Hisham Mayet's Sublime Frequencies label. But that noble gesture wasn't enough to sate Bishop's appreciation of this music that flourished from the mid '60s to 1970. He also felt an overwhelming urge to interpret what he felt to be the best Koes tunes. To that end, he enlisted some of his favorite musicians in the Spoils—guitarist Milky Burgess, drummer Don McGreevy, and bassist Jim Davis—all of whom also play or played with Seattle ethnodelic shapeshifters Master Musicians Of Bukkake. All were eager to tackle these durable, desirable compositions and super-producer Randall Dunn (Sunn O))), Marisa Nadler) worked the boards. Koes Barat was cut in less than a week of sessions, and the results hit your ears with a revelatory smack. It is the most immediate and, forgive the loaded word, fun collection that the prolific Bishop has ever auteured. — Dave Segal
This album is a Record Store Day 2015 exclusive, limited to 3,800 worldwide.
Side A
Kelelewar
Kisah Sedih Di Hari Minggu
Pent Juri Hati
Mr. Time
Hidup Yang Sepi
Side B
And To The So-Called "The Guilties"
Thlah Cinta Berlalu
Poor Clown
Land Of Evergreen
Rasiah Hatiku
Tiba Tiba Ku Menangis