Official Sun City Girls Discography:
Kaliflower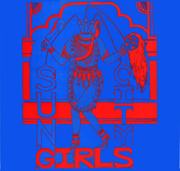 LP cover art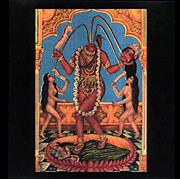 CD cover
1993: CD (Abduction: ABDT-001)
1994: LP (Abduction: ABDT-001)
The CD edition was released a few months prior to the LP. A mixture of studio and live recordings, plus a field recording made in Bangkok. The live track ("The Venerable Uncle Tompa") was recorded during in Chicago the 1990 tour by Scott Colburn, his first recording of SCG but by no means the last.
The song "Opium Den" was recorded for this project, but was not released on it. It was released later in 1993 on the Libyan Dream cassette (which was reissued as a CD in 2001).
Side A:
X+Y=Fuck You
Dead Chick in the River
And So the Dead Tongue Sang
Cigar Shaped the Moonlight
Archaeoptryx in the Slammer
Side B:
The Venerable Uncle Tompa
I Knew a Jew Named Frankenstein