Official Sun City Girls Discography:
The Invisible Hands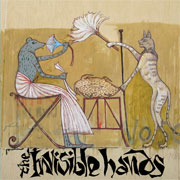 CD cover
3/19/2013: CD [English] (Abduction: ABDT050)
3/19/2013: CD [Arabic] (Abduction: ABDT050)
5/14/2013: 2-LP (Abduction: ABDT050)
[The Invisible Hands is the English translation of the band's original Egyptian Arabic name: El Ayadi El Khafeyya]
Taking almost two years to create amidst an unusual and challenging backdrop, this is the brand new project of Alvarius B. (Alan Bishop of Sun City Girls). Eleven highly crafted new songs projected through his typically dark lens of songwriting and a band of brilliant musicians from Cairo, the premier, self-titled CD version of this album is the English language vocals edition (see below) delivered in AB's patented sinister style; drenched in lovely psychedelic folk arrangements and vocal choruses with a nod to what could have potentially been an album that surfaced decades ago but instead found its way into the future superimposed over historic and tumultuous times in the center of the Arab world.
The group was established during the summer of 2011 and the album was recorded in Cairo in May of 2012. Band members include Cherif El Masri and Aya Hemeda (both former members of popular Egyptian group Eskenderella) with drummer Magued Nagati. On a handful of songs, several other players from the Cairo scene are featured including Sam Shalabi (Shalabi Effect/Land of Kush) on oud and Mohamed Medhat on violin and viola. All tracks written and sung by Alvarius B. in English.
[NOTE: Only the English language CD version of the album will be available in America and Europe. An Arabic language CD version will only be available to purchase in the Middle East. Both English and Arabic language versions will be available for digital download and both versions together will be available as a limited edition 2-LP.]
English:
The Same
Dream Machine
Hitman Boy
Dark Hall
Black Weather Shoes
Soma
My Skull
Nice On Ice
Black Blood
Summer Rain
Death Zoo
Arabic:
كله زى بعضه
مكنة الأحلام
صبى السفاح
نفق ضلمة
بلاك شوز
الإكسير
دماغى
ناس و ناس
دم أسود
الخماسين
مزبلة الموت