Official Sun City Girls Discography:
The Invisible Hands Insect Dilemma/Disallowed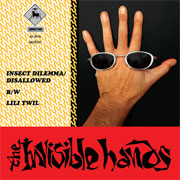 7 inch cover
4/20/2013: 7" (Abduction: ABDT051)
[The Invisible Hands is the English translation of the band's original Egyptian Arabic name: El Ayadi El Khafeyya]
This is the brand new project of Alvarius B. (Alan Bishop of Sun City Girls). Recorded in Cairo in October 2012, both tracks on this 7 inch are not found on the new Invisible Hands self-titled album and exclusive to this 45 rpm. Side one is a fully orchestrated version of two Alvarius B tracks, one of those tracks, Insect Dilemma, was included on Sun City Girl's classic 330,003 Crossdressers from Beyond the Rig Veda album from 1996. Side B, Lili Twil, is a cover of a Moroccan folk song from the early 1970s sung in Arabic by Aya Hemeda. Limited edition one-time pressing with full color picture sleeve.
Tracks:
Insect Dilemma/Disallowed
Lili Twil