Official Sun City Girls Discography:
The Dwarfs of East Agouza High Tide in the Lowlands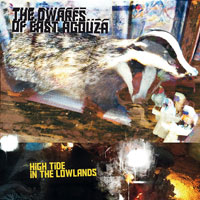 LP cover
4/27/2023: LP (Sub Rosa: SRV533)
Born in 2012 when the three were living in the same apartment building in Cairo's Agouza district, the trio's instrumental improvisation-based explorations are propelled by Louca's North African percussion loops and shimmering keys, Shalabi's West African tinged free jazz guitar and grounded by Bishop's driving Krautrock-style acoustic bass.
High Tide in the Lowlands was recorded in Brussels at Les Ateliers Claus on September 5, 2017 and is quite an intense experience. Most performances and recording sessions are improvised and this set is no different and even though the group opened the show with "Baka of the Future" from their first album Bes, it is almost unrecognizable and everything the trio plays is continually morphing into the next unknown idea. As the sound, energy, and instantaneous composition flows, the trance is growing and growing, ranging from raw shapeshifting "no (un)wave", free jazz, traditional Arabic and modern experimental explorations to a concrete mystic trip from an universe expanding and contracting constantly. This is earth interrogating the sky, the sky rejoining the earth, an unknown and unwritten cosmogony.
Alan Bishop (Acoustic Bass, Vocals & Alto Sax) Maurice Louca (Keyboards & Drum Machine) Sam Shalabi (Electric Guitar)
Side A
Baka Of The Future
Side B
The Sprouting Of The 7th Entertainment