Official Sun City Girls Discography:
Alvarius B. With a Beaker on the Burner and an Otter in the Oven - Vol. 3 Heathen Folklore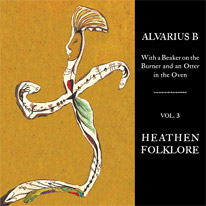 LP cover
11/3/2017: LP (Abduction: ABDT059C)
Serial killing was one of history's greatest art forms. Now it's becoming almost impossible to get a skull-drilling startup off the ground unless you murder for the corporations or governments where you have highly organized protection from any enforceable law but at the expense of sacrificing all the glory for the anonymity required to maintain employment. So, unfortunately, the days of any zit topography random commoner being able to string together a few killings to hit the big time before being caught has almost come to an end. Sad. This record, the third and final volume of my new three-LP set called Heathen Folklore, could serve as somewhat of a manual of inspiration on how one could start such a career, as risky and unpopular as it is. It gets much more fucked-up than the previous two LPs, and sometimes I think it's the best one due to that aspect. I'd have to give it one more listen but I also think this is the LP with coded messages that could trigger an unsuspecting listener to start his/her career in extreme behavior. But killing isn't everything you know. There are many more ways to express yourself and reach the top of the charts these days. In fact, I saw Burt Bacharach three weeks ago gripping a huge fucking machete while chasing modern dance music architects off his champion ship and into deep water where they hopefully became shark bait. And to set the record straight, Jimi Hendrix did not fake his death and become Morgan Freeman nor was Hunter S. Thompson directing snuff films. But most of that other weird shit you hear about these days is probably true. And I'm working on a film called 'Being Alvarius B.' where all of you loser fucks crawl into my brain and see yourselves from my perspective and then commit collective suicide because you finally realize I was right all along. And I am. Can't wait to make more albums so I can write these album descriptions. Cocksuckers. - Alvarius B (August 2017)
One-time pressing; Includes printed inner sleeve with lyrics and credits.
Side A
ILL (3:04)
Crackled Witch (2:19)
Icicle Pillar (2:37)
I'll Carry Your Dwarf (2:42)
Green Thumb (3:15)
GPS (3:59)
Side B
Cantaloupe Brain (2:53)
Mandolyne (2:05)
Suitcase Handler (2:47)
Take the Veil Down (2:19)
Wanted Man (9:01)