Official Sun City Girls Discography:
The Dwarfs of East Agouza The Green Dogs of Dahshur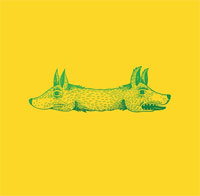 LP cover
4/24/2020: LP (Akuphone: AKU1021)
The Dwarfs of East Agouza are back with The Green Dogs of Dashur. Once again, the prolific American-Egyptian trio composed of Alan Bishop (acoustic guitar-bass/alto sax), Sam Shalabi (electric guitar), and Maurice Louca (organ/synthesizers/beats) breaks off all constraints and reveals a resolutely free album offering an improvised trance to the listener. The hot embossed metallic double-headed dog designed by the Lebanese artist Lynne Zakhour perfectly illustrates this album that blurs the boundaries of rock and jazz. A new album that will certainly delight fans of the Sun City Girls or the Land Of Kush. Comes with printed inner sleeve and download card.
Also available in a limited edition green vinyl version.
Tracks:
lack Sun of Intent
Organism 46-B
Bent, Black, and Red
The Green Dogs of Dahshur