Official Sun City Girls Discography:
Eight Trails, One Path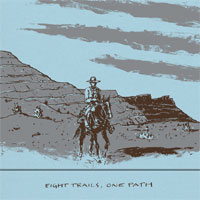 LP cover
2012: LP (Three Lobed Recordings: TLR-091)
Exclusive release for Record Store Day 2012. 1055 copies only.
Alvarius B. recorded November 28, 2011 in Cairo.
Tracks:
A1 Alvarius B. - "El Gomhoreya"
A2 William Tyler - "Lismacue"
A3 Danny Paul Grody - "Late November"
A4 Six Organs Of Admittance - "Stranded On Io"
B1 Steve Gunn - "Trailways Gramble"
B2 Lee Ranaldo - "By The Window"
B3 David Daniell - "Housewarming"
B4 Sir Richard Bishop - "Quarter Wheel"