Official Sun City Girls Discography:
David Blaine: Above the Below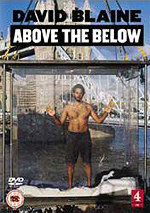 Cover of the UK DVD release
2003: film soundtrack
Directed by Harmony Korine.
Sun City Girls contributed the song "Nibiru". It is included on the Carnival Folklore Resurrection Radio double CD.
A documentary shot on 35mm depicting David Blaine's 44 days suspended in a plexi-box near London's Tower Bridge on the River Thames. Produced for Sky One television (Britain). The film has been released in the UK on DVD (Region 2 encoding), with additional footage of Blaine's "Vertigo" challenge where he stood atop a 100-foot high pole in New York for 35 hours.
A US release on DVD is rumored.