Official Sun City Girls Discography:
Chemical Imbalance Magazine Compilation no. 8

Cover of Chemical Imbalance v.2, n.3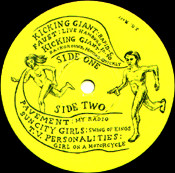 A-side label art by Sally N. Ross

B-side label art by Sally N. Ross
1993: 7-inch vinyl compilation (Chemical Imbalance: CI008)
This 6-song compilation came with the vol. 2, no. 3 issue (the 11th overall) of Mike McGonical's brilliant magazine, Chemical Imbalance. With a cover price of only $5.95 for 138 pages and the record, it was a total steal. This was the eighth such record release by the mag.
The Sun City Girls cut ("Swing of Kings") was recorded live to DAT in Chicago, IL during the fall 1990 tour of North America. (See also the Soluble Fish compilation CD.) The compilation also happened to include the first new recording by Faust in 15 years, recorded live at a Hamburg bar.
The label art on the record was by Sally N. Ross.
For those who missed out, Chemical Imbalance (1984-1995) was a rare treasure — a thick, gloriously dense, amazingly diverse publication "covering punk rock, free jazz, comic art, art brut, and 'transgressive' writing" (Mike's words). You could find texts by Alfred Jarry, Neal Cassidy, Bob Flanagan, or David Sedaris; art by Raymond Pettibon, Steve Cerio, Chris Ware, or Alexander Ross; articles about Harry Smith, John Cage, The Boredoms, or NRBQ; and a gazillion intelligent record and video reviews of who knows what. You never knew what you would find or who you would discover. As if that weren't enough, a steady stream of 7-inch compilations (culminating with a full CD) featured the likes of Sonic Youth, Sun Ra, Yo La Tengo, Big Black, Galaxie 500, Daniel Johnston, The Mekons...
Publisher/editor Mike McGonical relocated from NYC to the Seattle area in 1998, to write for Amazon.com at the height of the dot-com boom. In December 2000, the Seattle Weekly published a piece he wrote in which he reminisced about the mag. He went on to publish the zine Yeti, and write for The Stranger and The Seattle Weekly, among other things no doubt.
Side A:
Kicking Giant - "Rapid C"
Faust - "Live Hamburg 10-90"
Kicking Giant - "Background, Moving Quickly"
Side B:
Pavement - "My Radio"
Sun City Girls - "Swing of Kings"
TV Personalities - "Girl on a Motorcycle"