Official Sun City Girls Discography:
The Dwarfs of East Agouza Both Sides Of The Curtain (Live In Beirut)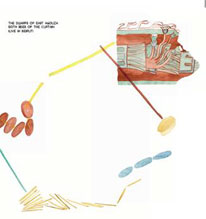 LP cover
2017: LP (Mophradat/Unrock: LP010)
Dadawahn Bishopesque taken to just another level in Beirut, Lebanon. Three major players...Alan Bishop (Sun City Girls, Invisible Hands, Alvarius B) Osama Shalabi (Karkhana, Shalabi Effect, ) Maurice Louca (Karkhana, ) recorded in Beirut in association with Mophradat. Deluxe gatefold with artwork from Mariana Castillo Deball. One time pressing limited edition. Improvisation on the highest level. Organic, never arty.