Official Sun City Girls Discography:
The Dwarfs of East Agouza Bes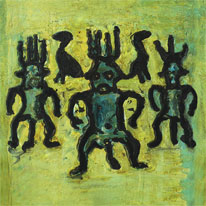 LP cover
4/29/2016: 2 CD (Nawa Recordings: NAWA005CD) 6/10/2016: 2 LP (Nawa Recordings: NAWA005)
The Dwarfs of East Agouza is a trio from Cairo, Egypt, featuring MAURICE LOUCA (Alif, Bikya), SAM SHALABI (Land of Kush, Shalabi Effect) and ALAN BISHOP (Sun City Girls, The Invisible Hands, Alvarius B.).
Born during 2012 when the three were living in the same apartment building in Cairo's Agouza district, the trio's instrumental improvisation-based explorations are propelled by Louca's North African percussion loops and shimmering keys, Shalabi's West African tinged free jazz guitar and grounded by Bishop's driving Krautrock-style acoustic bass.
Named after the Ancient Egyptian dwarf deity who was worshiped as the defender of all things good and enemy of all that is bad, Bes captures the trio on a hypnotic yet unpredictable journey. From the the lilt of four-minute Ethiopian tinged Resinance to the 30-minute free-form epic Museum of Stranglers, the album skirts the outer limits of a psychedelic soundtrack to a North African road trip.
Side A
Baka of the Future
Clean Shahin
Side B
Where's Turbo?
Hungry Bears Don't Dance
Side C
Resinance
Museum of Stranglers, Pt. 1
Side D
Museum of Stranglers, Pt. 3
Museum of Stranglers, Pt. 3