Official Sun City Girls Discography:
...And Shiva Came For Charlie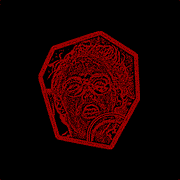 cover
2008: LP (Ri Be Xibalba: OQ'EBAL 002)
A tribute compilation to Charles Gocher with exclusive tracks by Charles Gocher, Sir Richard Bishop and Uncle Jim. All tracks were originally released as individual mp3s for Ri Be Xibalba's mp3 of the month series, except the Gocher track which was released for the first time on this LP. Also, the Sir Richard Bishop and Uncle Jim tracks were remastered for vinyl.
The Charles Gocher track was recorded on July 2, 1990 by Keith Parry of Scratch Record during a live broadcast on CITR radio in Vancouver, B.C.
Released in a limited edition of 320 copies with screen printed jacket and inner sleeve, plus 20-page booklet.
Tracks:
Factums - "Untitled"
Wizard Prison - "Kamchatka Afternoon"
Katharina Tunicata - "Plastic Wood"
Charles Gocher - "Dream of Shadows"
Dave Knott - "Prepared Guitar Etude (Outro)"
Spider Trio - "Untitled"
Lung Wing - "A Waste Of 16 Channels"
Michael Ohlenroth - "Untitled"
Sir Richard Bishop - "Winged Serpents"
The Sea Donkeys - "Curtain"
Climax Golden Twins - "Hector's Dilemma"
Michael Shannon - "Scars That Mend Colors That Blend"
Uncle Jim "The Exploding Santa"