Official Sun City Girls Discography:
Alvarius B. Sorban Palid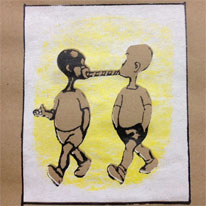 7" cover
8/14/2014: 7" (Poon Village: PV008)
Alvarius B booked an 8-show tour in August of 2014 in the Northeastern US and Canada. A free 7" was given away to the first 75 people who purchased tickets for each show. No copies were offered for sale to the public.
Tour Dates:
08.14.14 - Brooklyn, NY - Union Pool
08.15.14 - Brooklyn, NY - Union Pool
08.16.14 - Pawtucket, RI - Machines With Magnets
08.17.14 - Somerville, MA - Johnny D's
08.18.14 - Portland, ME - Portland Empire
08.20.14 - Northampton, MA - Feeding Tube
08.22.14 - Montreal, QC - La Vitrola
08.23.14 - Montreal, QC - La Plante
The FIRST 75 people to turn up at each show of the tour, w/ paid admission, got a FREE Poon Village Records' screenprinted, not-for-sale, tour-only 7" pressed at Gotta Groove Record Pressing. This super-limited-edition single features two previously unreleased recordings by Alvarius B. with artwork by Byron Coley. This is a tour-only release and was only given away to those attending the shows.
Note: the free 7" for both New York shows included a chapbook of poetry by Byron Coley. No other shows had this special chapbook included with the 7".
Side B
Queen Jane Specifically