Official Sun City Girls Discography:
Alvarius B. (CD)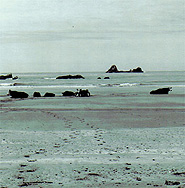 CD Cover
2006: CD (Abduction: ABDT-004)
CD Reissue of the first Alvarius B record. 32 instrumental acoustic guitar excursions into a realm of weird Lo-Fi rustic beauty that sketch retro-portraits of several folk guitar styles, some which may never have existed before. From abrasive to delicate, these lucid antique paintings with acoustic guitar employ Appalachian polyrhythms, dark melodies, flamenco thrash, alien tunings, pseudo eastern drones, cinematic backroad twang, and other hybrid ideas not easily described. This record is a folk drifter classic and is now available again for the first time in a decade. Originally released as 1000 copies (vinyl only) in 1994 on Abduction. Recorded from 1981-1989 by Alvarius B (AKA Alan Bishop/Sun City Girls) onto various portable cassette decks and includes the original 28 tracks from the LP plus 4 unreleased bonus tracks.
Tracklist:
The Mighty Bufo
Gloomy June
Day-Glo Joe
Mystery Altitude
70 Mile House
The Waxing
Blue West
Cold Piece Capsule
Mosquito
Phantom Green Light
El Mirage
Outside Steppes
Jet Nicholson Murder
Bleak
66 Miles North of Vegas
Bad Moves of Distinction
Wreckage the Julip
Mouth Pacific
Jackalope
Deputy Piano-Wired
Vongco Texa
Mesarchuleta
Incident in Your Hair
Flaming Stagecoach
Bloody Whiteshirt Handshake
Missing From Pasture
Mr. Lonely
Cupid's Crossbow
Bonus Tracks:
Black-Eyed Shrubbery
Cancer to Capricorn
Missing Trombone
Sky Realty