Official Sun City Girls Discography:
Alvarius B. Blood Operatives of the Barium Sunset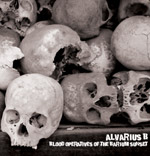 LP cover
2005: LP (Abduction: ABDT032)
2010: CS (Plus Tapes: PT37)
2011: CD (Abduction: ABDT032)
Limited edition one-time pressing of 1000 vinyl LPs with lyric sheet insert.
The first Alvarius B. full-length release in 7 years. According to the brief statement on the insert this is a collection of songs seemingly based on actual, but unnamed, shady characters of the global underworld past and present. Regardless of intent, this is cryptic folk music of the highest order, with several tracks employing folk/rock/psych orchestrations featuring the talents of Eyvind Kang, Tim Young, Richard Bishop, Andrew McGinnis and Randall Dunn. Twisted Americana folklore breeds with baroque Italian cinematic pop, dark ballads, and vagrant story lines. Eleven unique and varied tracks and the most "produced" Alvarius B. record to date.
Side A
Evil Next to Blue
Mr. 786
Slim 293
The Demon 360
Dracula Frizzi
Side B
Dirty Angels
Ballad of Colonel Fawcett
Sometimes Like a Man
Missy Undertaker
The Feel
Shenandoah