Official Sun City Girls Discography:
Alvarius B. Baroque Primitiva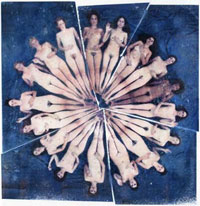 LP cover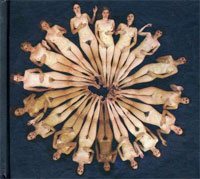 CD cover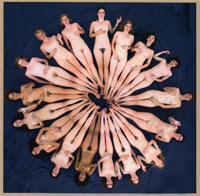 artist's edition LP cover
2/15/2011: LP (Poon Village: LP006)
5/10/2011: CD (Abduction: ABDT046)
"By my count, Baroque Primitiva is the sixth album cut by Alvarius B and is, like its predecessors, a deep swim through mysterious waters. The 11 tracks here were recorded at various sessions over the course of several years and range from "Humor Police" (a track that imagines what Syd Barrett might have sounded like had he been a devotee of Rembetika) to a trippily Beatles-damaged version of "You Only Live Twice" (the sole surviving shard of the aborted Alavarius B Plays the Bond Songbook project).
Baroque Primitiva is first long-format telegram from Alavrius B since he lost his mothership (the Sun City Girls, with whom he employed his slave name, Alan Bishop) and it also feels like his most consistently non-acerbic — perhaps even beauty-oriented — work. The songs often have a meditative pace and are filled with a gorgeous lo-fi blends of vocals, guitar, bass and keys. Eyvind Klang guests on several tracks, but the bulk of the material was broadcast direct from the naked soul of Alvarius B, which turns out to be a warmer, sweeter place than you might imagine.
The record also marks the return of the equally legendary Poon Village label, whose 1993 Sun City Girls LP, Live at C.O.N. Artists, is a rare and lovely piece of that band's sonic puzzle. Poon Village's productions are always extraordinary in visual terms, and Baroque Primitiva is no exception. The cover's meditative human mandala is a brilliant ocular ode to shifting visions of feminine pulchritude, and is worthy of the best framing job you can afford.
Issued in a strict edition of 300, Baroque Primitiva will be available for roughly the time it takes you to draw a deep breath of appreciation. It would be a stone shame to deny yourself its bountiful pleasures."
— Byron Coley
LP version, on Poon Village (LP006), is packaged in a screenprinted jacket feature a double gate, hand-cut spine, and metallic photo print featuring 16 naked girls and was released February 15th, 2011.
The CD version, on Abduction Records (ABDT046), is packaged in a deluxe 32 page full color erotic art hardcover CD casebook and was released May 10th, 2011.
There is also a numbered edition of 33 copies of the LP, produced to compensate the cover models, who participated for no pay. Signed by Alan Bishop. The cover is a metallic c-print of the original, unmodified image, dry-mounted to a hand-cut and hand-glued jacket constructed from heavy architectural board. Includes screen-printed insert. Pressed on heavy black vinyl. Never made available for sale.
Side A
The Dinner Party
Mussolini's Exit
Humor Police
You Only Live Twice
Face to Face with a Couple Axes
Well Known Stranger
Side B
Naturally Absolute
Funny Thing Is…
3 Dead Girls
Like That Madri Gal
God Only Be Without You