Official Sun City Girls Discography:
You're Never Alone with a Cigarette (Sun City Girls Singles Volume 1)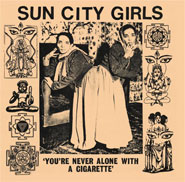 CD cover
2008: CD (Abduction: ABDT-040)
Recorded in July of 1988 during the sessions that produced Sun City Girl's most popular recording, these nine tracks represent the other half of songs which were originally prepared as a 2-LP demo version of 'Torch of the Mystics' for Placebo Records in 1989. The sequencing of all 20 tracks at the time was entirely different with the predominately instrumental tracks in this collection mixed in and around the mostly vocal tracks of what became 'Torch'. Placebo went out of business shortly after this proposed 2-LP idea was presented to them but Majora Records quickly stepped-in to begin releasing most of the material. Included here are 5 tracks from early Majora singles: '100 Pounds of Black Olives' and 'The Fine-Tuned Machines of Lemuria' (the complete unreleased 12 minute version) from the single 'You're Never Alone with a Cigarette' and all three tracks from Record #1 of the double seven-inch 'Three Fake Female Orgasms' --'Plaster Cupids Falling from the Ceiling', 'The Beauty of Benghazi', and 'Souvenirs from Jangare'. The short piece 'Harmful Little Armful' is from the triple seven-inch box set 'Bruce Lee, Heroin, and the Punk Scene' (from a Bay Area label-'Massacre at Central High') and rounding out the set are 3 unreleased studio tracks recorded the same day as much of the 'Torch' LP: never before heard versions of 'Amazon One', 'Sev Acher', and 'Wild World of Animals'. This is the first of a multi-volume set of reissued singles, compilation, and unreleased tracks to be assembled and sequenced to play as full-length records. Vinyl editions may also appear in time.
Tracks:
100 Pounds of Black Olives
Sev Acher
Souvenirs from Jangare
Plaster Cupids Falling from the Ceiling
Amazon One
The Beauty of Benghazi
Wild World of Animals
Harmful Little Armful (For Will Shatter)
The Fine-Tuned Machines of Lemuria