Official Sun City Girls Discography:
Brothers Unconnected Unrock The House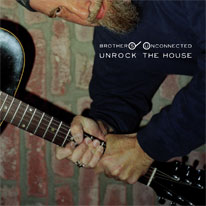 LP cover
2012: 2-LP (Unrock: LP002)
"Unrock The House", by Alan & Richard Bishop aka Brothers Unconnected, is a truly remarkable document and album. It's a desirable object for eyes and ears that stands completely for itself. It is history (de la Musica Underground, as we know it) and legacy of the leading and legendary performance unit Sun City Girls who served the contemporary underground/avant scene over a period of 25 years with inspiration and influence. It is in fact a grandiose, if I can say that word, homage to Sun City Girls and their late drummer Charles Gocher. The uncut live-performance from Suedbahnhof in Krefeld, Germany 2011 is recorded in brilliant quality and contains tracks from Sun City Girls and the complete spoken word interludes which makes it a delicate performance and captured the magic of the moment in full. "Rookoobay", "Soi Cowboy", "Horse Cock Phepner", "Dreamland" and "Shining Path" are part of the set as well as "Black Orchid" from Sun City Girls final album "Funeral Mariachi".
"Unrock The House" is housed in a gatefold sleeve and contains one black and one white vinyl album. The entire performance is more then 80 minutes long. It is a limited edition one time vinyl pressing.
Recorded live for Unrock Series in Krefeld, Germany, 2011. Recorded & mastered by Peter Koerfer.
Side A:
Nyn De Gris Sang
My Painted Tomb
The Flower
The Multiple Hallucinations Of An Assassin
I Always Felt Sorry For The Monster
The Brothers Unconnected
Don't Fuck With The Squid
Side B:
Six Kids Of Mine
Wild World Of Animals
Academia Nuts
Soi Cowboy
Rookoobay
I Deal A Stick
Side C:
Cruel And Thin
Cooking With Satan
Aristocrats Of Impertinence (not listed on cover)
Eyeball In A Quart Jar Of Snot
Ali Baba
Black Orchid
Side D:
Bitter Cold Countryside
Dreamland (For Dinah)
Horse Cock Phepner
Shining Path