Official Sun City Girls Discography:
They Came, They Played, They Blocked the Driveway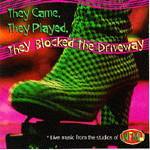 2-CD front cover
1993: double CD compilation (WFMU: thcathplthbl)
This double CD was available as a premium during the 1993 pledge drive. All tracks were recorded live in the old East Orange studio.
Where else can you hear Sun City Girls on the same album as Suzanne Vega and Hasil Adkins?
Disc 1:
Universal Congress Of - "Pickled Bullhorn"
Jac Berrocal, Jean Francois Pauvros, Johnathan Kane - "It's Raining on New York"
ESG - "Earn It"
The Mommyheads - "Hepsaba's Compass"
Sun City Girls - "The Bearded Hermes"
David Kilgour, Hamish Kilgour, Graeme Jefferies - "What U Should Be Now"
Tijuanna Bible - "The Mark of Zorro"
Cowboy Junkies - "Captain Kidd"
Swans - "Can't Find My Way Home"
The Dentists - "Snapdragon"
Screaching Weasel - "What We Hate"
The Faith Healers - "Moona-ina-Joona"
Scrawl - "Misery (Someone Is Winning)"
Jeff Buckley, Gary Lucas: Gods and Monsters - "Farewell Angelina"
Yo La Tengo - "Barnaby, Hardly Working"
Disc 2:
Jad Fair, Tim Foljahn, Steve Shelley - "Please, Please, Please, Please"
God Is My Co-Pilot - "Zonnebloem : Le Corps Sans Merci"
Sister Carol - "Get It Straight Africans"
Daniel Johnston - "I Killed the Monster"
Angel Dean with Tony Maimone and Phillip Dray - "Little Pictures"
Linda Gibbs with Pat McKearn and Hearn Gadbois - "Tennesee Waltz"
The Vacant Lot - "From Above"
Tall Dwarves - "Crush"
World Famous Blue Jays - "Mercy of the Moon"
Peter Stampfel - "Goldfinger"
Parsons Green - "Banjo Dog"
Hasil Adkins - "Shake that Thing"
Baby Gramps - "Two Bit Song"
Mr. Rhythm (Sam Ulano) - "The Three Bears"
Les Batteries - "Bataille de Valmy"
Suzanne Vega with John Guth - "Neighborhood Girls"
Birdsongs of the Mesozoic - "Why Not Circulate"
Andrew Cyrille - "Drumsongs for Leadbelly"
King Missile - "Jesus Was Way Cool"