Official Sun City Girls Discography:
Superculto
Carnival Folklore Resurrection vol. 3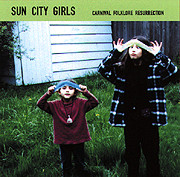 CD cover
2000: CD (Abduction: ABD 014)
Limited edition of 1000. Recorded live at GBU (Seattle) on Sept. 13, 1997.
"It's like a refrigerated tosser, crushed fingers, full of hemline theory. Every angle is covered, explicitly." — Marty Perez.
Tracks:
Ruins of an Old Casino
Echo by Association
Mopti Ghetto Still
Thrill Code
Now Playing
NAMBUTAN
Camp Sulawesi
The Gospel According to Philly Jo Rose
AMUCK 5
DJEMA EL FNA, USA
Jazze Cpricorn
Elvis on a Shoestring