Official Sun City Girls Discography:
Sun Supreme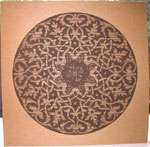 LP cover
2007: LP (MEDS: MEDS1)
Recorded in a cloud of smoke in Seattle at the Chummery one night in February of 2004. The players? Your ears should be able to place a few of them. If not, try your third ear mood ring medallion. An after dinner jam with guitar, bass, drum, piano, gamelan, marimba, banjo, cumbus, oscillator and other odd things. Nice silkscreened covers in a one time edition of 500.