Official Sun City Girls Discography:
Sumatran Electric Chair
Carnival Folklore Resurrection vol. 6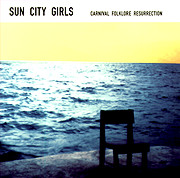 CD cover
2001: CD (Abduction: ABD 017)
Limited edition of 1000.
Studio recordings from The Maple Leaf (by SCG) and Gravelvoice (by Scott Colburn). Mixed & edited at Gravelvoice by Colburn and SCG. Track 1 is a traditional Burmese song.
Guest: NI NI AYE on tracks 1 and 10.
"Sumatran Electric Chair is a relatively mellow album that draws heavily from the most mystical side of folk with relatively short pieces of electric and acoustic improvisations. The opening track, "My Friend RAIN" is a traditional Burmese tune with amazing guest female vocals and psychedelic guitar work. It's actually hard to think of a more suitable starting point for this album as its tone runs through the album like a strange dream that keeps repeating itself night after night." — Mats Gustafsson, The Broken Face no. 11
Tracks:
My Friend RAIN
Garuda's Playhouse
Dark Chinese Sour
Animistic Trafficking
Nyne De Gris Sang
Gardens Green and Broken Chests
Viet Space Bong
Bustin' up MOGOK
The Night Fears Black Lajoon
Drifters of The Grand Trunk
Bamboo Gazebo Arousal
Brahmaputra Plutonium