Official Sun City Girls Discography:
Static from the Outside Set
Carnival Folklore Resurrection vol. 14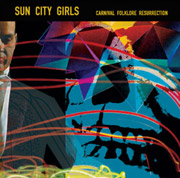 CD cover
2006: CD (Abduction: ABDT-035)
Limited one time pressing of 1000 copies.
Created for the
On the Wire
Radio Lancashire show, aired only once and never archived,
Static from the Outside Set
is a delirious roller-coaster ride through the prism of Sun City Girls audio archaeology.
Hosted by the corpse of Mexican film legend Cantinflas, this 60 minute radio show is packed with unreleased SCG nuggets from studio tracks of classic cover tunes "Gently Johnny" and "Gimme that Wine" to absurdist Radio narratives "Sacrifice in the USA" and "Lester's Dictionary."
Not since the halcyon days of Ken Nordine's word jazz programs have radio shows been prepared to fuck your mind with a blunt dagger yet SCG are much more diabolical and have spiked the punch with plenty of morphine drip and a demerol lollipop or two thrown in to ease the unease.
Tracks:
Introduction (by Cantinflas)
The Amuck Theory
Anthrax Dandruff
Spin Capsules
Mysteries Behind the Curtain
Radio Neocon #1
Blanket's Mirage
Waco Herdsmen
Summer Dream (Amherst 2004)
Limerick Anthropology
Headaches Forever
Sacrifice in the USA
Radio Neocon #2
Gimme That Wine
Give them the Frequencies
Instant Archaeology
Tea Boy Attitude
Radio Neocon #3
Lester's Dictionary
Iced-Off Broccoli
Radio Neocon #4
Broken Interlude
Gently Johnny
Elvis & Machinery
Bacchanalia
A Commercial Message
Zebra Hymn Tattoo
Django-ized
End Titles (w/ Cantinflas)