Official Sun City Girls Discography:
Herb Diamante & Friends A Spoonful Of Yeast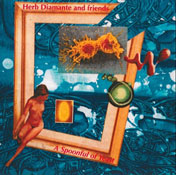 CD cover
2010: compilation CD (No-Fi: NEU017)
The second full album by the lysergic torch maestro, after his debut 'May I Light Your Cigarette' on Sun City Girls' Abduction label, 'A Spoonful Of Yeast' comes in a delicious card gatefold sleeve featuring Herb's own otherworldly designs and features the altered chanteuse fronting a truly all-star cast of house bands.
Mr Lonely was intended for the Harmony Korine film of the same name and was recorded by Randall Dunn (Sunn O))), Earth) - its an aching, almost humorously self-pitying ballad originally made massive by Bobby Vinton, and with the help of the Girls, plus Eyvind Kang and Jessica Kenney, Herb also delivers the song to grandiosity in his own wonderfully skewed way. For all its weirdness, it's really quite a moving appeal, exacerbated by the expertly understated strings and backing vocals.
Tracks:
Herb Diamante with Sun City Girls - "Mr Lonely"
Herb Diamante with Dialing In - "Plant Flicker"
Herb Diamante with Sunburned Hand Of The Man - "Riga"
Herb Diamante with Diatric Puds - "In New Moon's Lull"
Herb Diamante with Vibracathedral Orchestra - "Yellow Vanilla Haze"
Herb Diamante with Climax Golden Twins - "The Screaming Skull"
Herb Diamante with At Jennie Richie - "They're Shiny!"