Official Sun City Girls Discography:
Scrape Audio Magazine #1: Musique Concréte From The Cream Of The Lunatic Fringe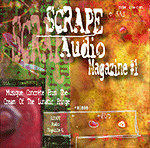 Front cover of the CD re-issue
1991: C-60 compilation cassette (Plutønium Press)
This was the first of two audio editions of Scrap Magazine. Both were recently reissued on CD (and as MP3 "virtual albums"), each with nine additional tracks submitted for but not included on the original cassettes. For the CD/MP3 editions, about half of the pieces were re-mastered from the original audio submissions. The rest are re-mastered from the original 60 minute audio cassette masters used to duplicate the original audio tapes.
Tracks:
Eberley Brothers - "(From) There's a Gun in the House"
Janet Janet - "Fuck (Dedicated to Malok)"
Rendezvous Debris - "Nekkid Flubber Blubber"
Niles Chandler - "Hathaway Iciest"
John M. Bennett - "Fan"
Mortuary Attendant - "Noize #3"
Peter Ragan - "Cicadas in Lust"
Peter Petrisko Jr. - "It's Hot, But It's a Dry Heat"
J. Hurwitz - "In Vessels"
Chris Winkler - "We're Sorry"
Tentatively A. Convenience - "Tone Fones Duet"
Jake Berry - "Primincia Devour"
The Haters - "(From) Banes 3"
Bill Shields - "5 Poems"
Harry Polkinhorn - "(From) Narthax for Winter"
Mike Miskowski - "AEKSTSOWBL AG9FGOL?"
Score - "The Laughing Song (For William Blake)"
Floating Concrete Octopus - "(From) Polynoise"
Rupert Wondolowski - "Retail: Day #1,397.6"
Sun City Girls - "Diet-blue Morbid Attraction Soda"